Contents
Overview

Payments & EFTs
Resident payment methods

EFTs

Declined payments
Reports
Report descriptions

Generate reports
FAQs

Overview
Residents can make payments through credit card, credit debit card, or directly from their chequing account. As soon as the payment is made, your (and their) RentMoola account will be updated in real time. Funds take between 1-3 business days to be deposited into your bank account (via EFT), depending on payment method.
Payments & EFTs
Resident Payment Methods:
eCheque (Direct Debit) Residents can make payments directly from their chequing account by entering the account information found on the bottom of their cheque.
Credit Card/Credit Debit Residents can make payments on their Visa or MasterCard credit card, as well as their Visa Debit or MasterCard Debit card, by entering the card information.
Service Fees The resident is charged a service fee, depending on their payment method. The service fee appears on the resident's credit card or bank statement as a separate line item from their payment to you, with the charge descriptor "RentMoola Service Fee".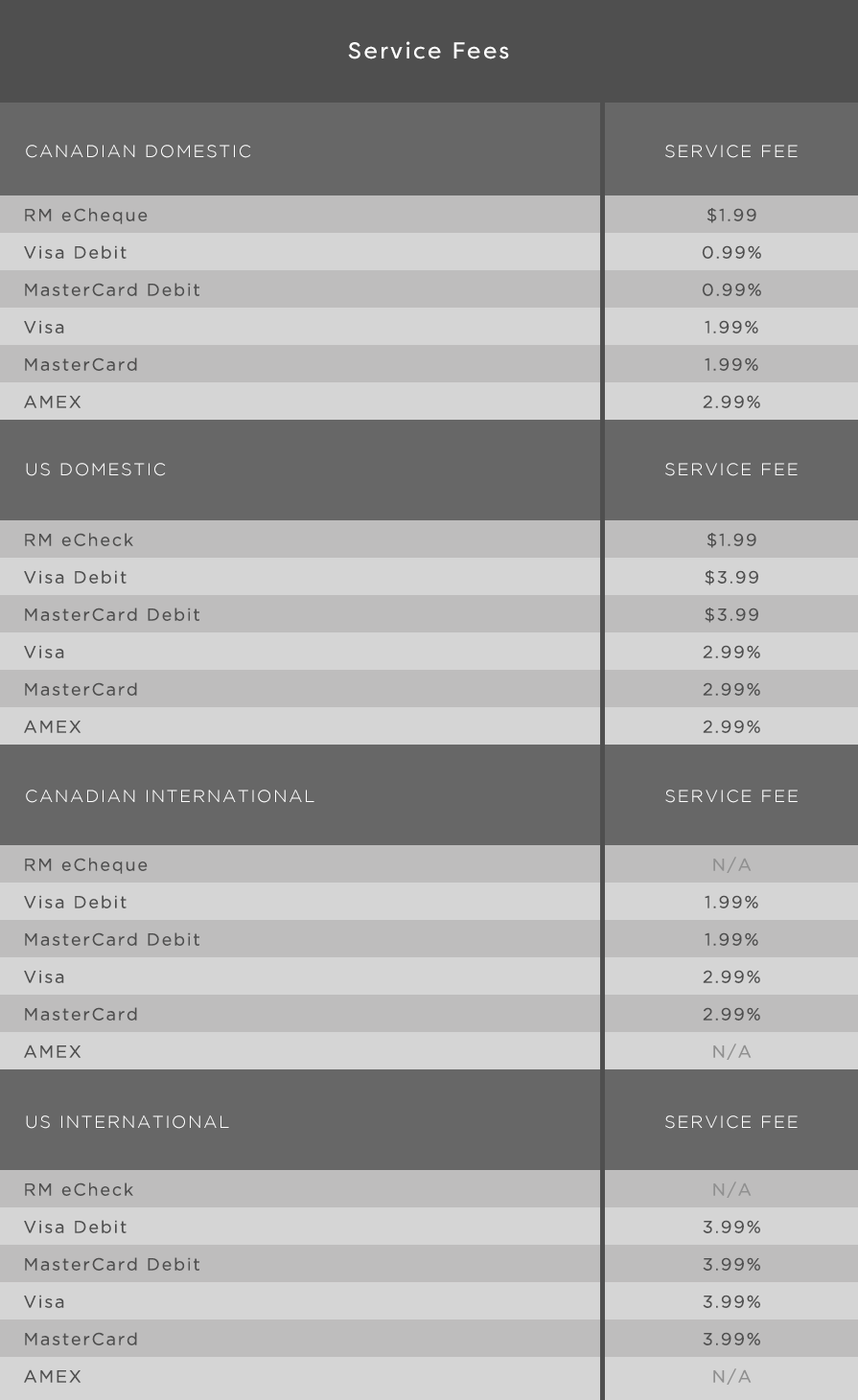 EFTs
At the end of each day, all payments are batched into two deposits (EFTs) for your account. All credit card and credit debit payments are batched into one EFT, and all eCheque (Direct Debit) payments are batched into another EFT. Payments made after the daily cutoff time will be batched with the following day's payments.
The eCheque (Direct Debit) EFT is sent to your account 1-3 business days after the payments have been made. The credit card/credit debit EFT is sent 2-3 business days after the payments have been made.  
Declined Payments
eCheque payments are not guaranteed at the point of transaction; since eCheque works the same as a traditional cheque, the payment can decline if the resident does not have the funds or has entered incorrect information.
If an eCheque payment declines, you will be notified via email, and you will see a red notification at the top of your screen when you next login to RentMoola. Your resident will also receive an email and see a notification when they next login about their declined payment.  
To make another payment, the resident will need to log back into to RentMoola to reprocess the payment using the same payment method or they can change it. RentMoola does not automatically reprocess declined payments.
eCheque payments can take up to 5 business days to return as declined due to insufficient funds. If this occurs after RentMoola has already transferred payment to your bank account in our EFT,  (i.e. after 1-2 business days), we will apply the declined payment to your EFT on the following day. In this scenario, you will not see a debit on your bank account statement. If you do not have an EFT on the following day, RentMoola will debit your bank account, which will show up on your bank statement.
Note: Credit card and credit debit card payments are guaranteed at the point of transaction, which means they cannot decline due to insufficient funds.

Reports
Report descriptions
Payments:  a real-time report of all payments made by residents.
EFT: a daily report of all EFTs deposited into your bank account. Provides a breakdown of the payments batched into each EFT.
Declines: a real-time report of all declined payments, and reason for the decline.
Refunds: a real time report of all refunded payments.
User Sign Up: a real time report of all users who have signed up to RentMoola. The report can be used to generate a list of all residents, however, it will also include residents who are no longer active.
Recurring Billing Date: a real time report of all residents who are set up on recurring payments, and the date and amount of their payments.
Generate Reports
All reports can be filtered by property and date, but default to the last 30 days. The reports can be viewed directly in RentMoola, however, they are easier to read if exported to excel or CSV. To access reports:

Hover over Reports and select the report you want to export
Select property and date range (optional), and click Refresh
Click Export

Select format (CSV or excel)

Open from your downloads

Frequently Asked Questions
Can payments be processed on weekends or banking holidays?
Yes, residents can make payments at any time, and recurring payments will go out as scheduled. However, EFTs can only be deposited on business days, as they rely on the banking network to be processed.
What happens if a resident enters incorrect banking information?
If a resident enters their banking information incorrectly, their payments will decline and the decline reason will show up as 'incorrect banking details.' The resident will need to re-add their banking information; if required, they can reach out to our Support Team for assistance.
Can residents pay with a standard debit card?
No, residents can only use a Visa Debit or MasterCard Debit card. If they want to pay directly from their checking account, they can use the eCheque option.
Will payments made on the same day be deposited into my account on the same day?
Not necessarily. The timing depends on the payment method--eCheque payments take 1-2 business days to be deposited, while credit card payments take 2-3 business days. For example, two residents could both make a payment on Monday, one with credit card and one with eCheque. The eCheque payment will likely arrive in your account on Tuesday, and the credit card payment will likely arrive on Wednesday.