Contents
Overview

Resident Sign Up Options:
Resident signs up/Approve a resident

Property Manager Onboarding
How to Approve and Onboard a Resident
Approve a resident

Invite a resident

Create a user
FAQs

Overview
Residents can join RentMoola through two options: they can set up their own account (and you review the information), or you can onboard the resident. This article first describes each option in depth, then provides instructions for using them.
Resident Sign Up Options
Residents sign up/Approve a resident
Your resident creates their own RentMoola account, and you approve the information.
The resident enters their name and email address, then confirms their email.

Once their email address is confirmed, they search for their property by postal code/zip code. They also have the option of setting up recurring payments.

At this point, their account becomes 'pending' while you have a chance to review the information (you'll be sent an email notification of the pending user).

If everything is correct and you approve it, the account becomes active and the resident can begin making payments.
Property Manager Onboard
You create the account for the resident, and your resident completes the process by adding their payment method and creating a password.
You'll enter the resident's name and email address, their property information, and--if you choose--their recurring payment amount. If you have the resident's payment method details, you can add it here.

The resident is sent an email notifying them that their property manager is inviting them to pay rent using RentMoola. To accept the invitation, the resident clicks the link in the email and enters their payment method details (if you have not added it for them), and creates a password.

The account is now active and does not need to be approved by you.
How to Approve and Onboard a Resident
Approve a Resident
Residents need to be approved when they add their property information and when they add/update recurring payments.
If there are residents pending approval, the number of residents will appear on your main dashboard under

Your Daily Overview

. To approve a resident, click

Go.





Click the button under

Actions

to quickly

Decline

, or

View the details. To approve a resident, you need to click on View the Details





If the resident information is correct, approve the resident by clicking

Approve

. Upon approval, the resident will receive an email confirmation informing them they have been approved for payments through RentMoola.

If the resident information is incorrect, decline the resident by clicking

Decline

. Please provide the reason for the decline in the text box so the resident can re-apply with the correct information. Upon a decline, the resident will receive an email informing them of the reason for the decline.

Note: if the unit number is incorrect, you can change it by clicking on the unit number itself and entering the correct information.
Onboard
Note: this process is best used for inviting a small group of residents. If you have a large number of residents to onboard, you should consider using the Bulk Invite template.
On the Home Dashboard, go to Onboarding

Click

Onboard a Resident.





Search for the property click

Onboard a Resident

Enter contact details (name, email, language, phone) & residency details (type, unit, status, customer ID [if required])

Enter the residency status:
Selecting "the resident is just moving in" allows you to include first-time charges (such as last month's rent, or deposits). Anything in this category will be charged to the resident immediately upon acceptance of the invite.

Selecting the "resident has been living here a while" will not give the option to charge first-time charges.
Enter the resident's preferred payment frequency:
Monthly recurring payments: enter the amount and select the date when payments should start.

Important: if added, first-time charges will be processed upon acceptance of the invitation.

Recurring charges will be processed on the start date specified.

One time payments: resident will log in each month to make a payment by selecting the payment amount and method.
Here you have the option to fully create the resident's account. If you have their payment method details filled out on the RentMoola Authorisation form, you can enter that in here by selecting a payment method. After you confirm, the resident will be sent an email to set a password for their account, but no further action is required from them. If you do not have their payment method details click
Skip
.
Review the details and click
Confirm
.
You can
View
,
Resend
, or
Delete
invites on the
Onboarding
tab by clicking the button in the
Actions
column under Invitations.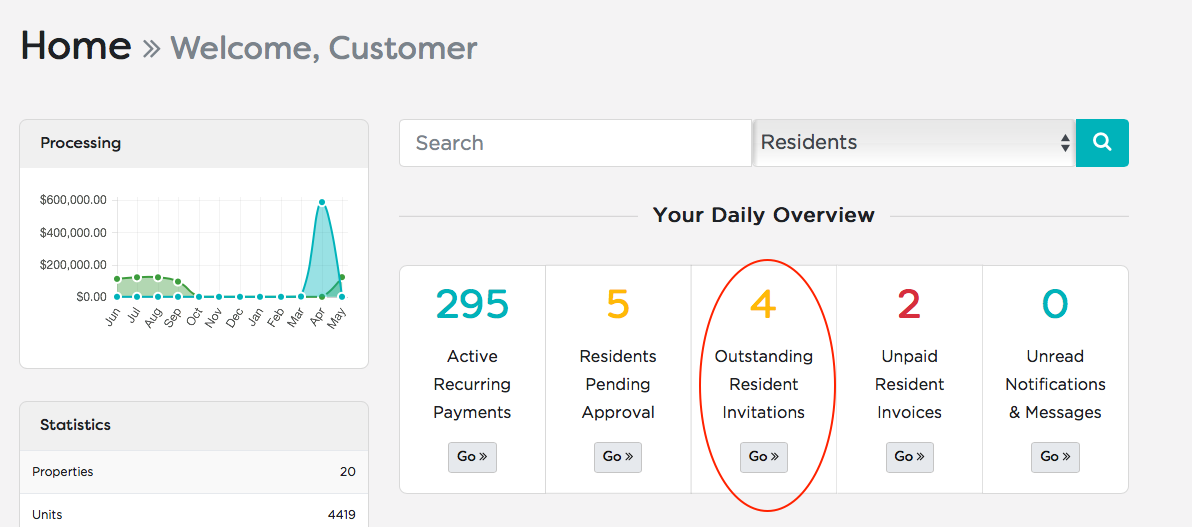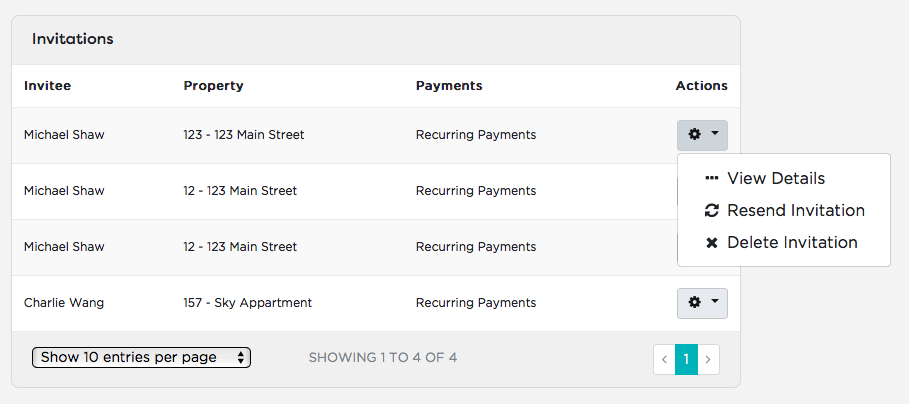 4. FAQs
Do residents need an email address for their RentMoola account?
Yes, residents must have an email address. All correspondence with the resident is sent through email (payment receipts, approval notifications, important information etc). They will also use this email address to log in to their account. If they do not have an email account, you can enter a fake one, however, keep in mind that they will not receive any of the communications from RentMoola.
What if my resident doesn't have access to a computer?
You can create an account on behalf of the resident through the 'Create a User' option. Setting the resident up on recurring payments means the payments will go out automatically, with no action required by the resident.
Can I edit an invite?
No, invites cannot be edited. To make a change, delete the invite and create a new one.
My resident didn't accept the invite before their recurring start date. Is the invite still valid?
Yes, the resident can still accept the invitation. The recurring payments will simply start next month, on the date specified, and they will need to make a one time payment for the missed payment.
When does a resident need to be approved?
You only need to approve a resident's account in two scenarios: when they initially set up their own account (i.e. add their property information), and when they set up/change their recurring payments. They do not need to be approved for payment method changes, one time payments, or when accepting an invite.
What information do I need to send an invite?
You will need a resident's address (including unit), name, email address, and phone number. If you wish to set up their recurring payments, you will also need the rent amount and payment date.
What do I need from the resident to 'create a user'?
You will need the resident to fill out a RentMoola Authorization form (found under Account > Files & Resources). You can use the information on the form to create an account, then you can keep it on file for your own reference.