Important - This guide provides a basic overview to RentMoola. Click the blue links for more information or instructions on any of the topics. This guide is only for you, if:
You have a manager account (don't have one yet? Ask your primary manager to send a manager account invite

)

.

Your property management company has completed on-boarding (i.e. property information and bank account information have been submitted). 

Contents
Welcome to RentMoola!
How Does It Work?
Getting Residents on RentMoola
Resident Page & Making Payments
Receiving Payments & Reporting
Adding Properties
Optional Features
Welcome to RentMoola!
RentMoola is an online platform that allows residents to make payments and property managers to accept payments online. RentMoola makes rent collection easier, faster, and more secure: accept and manage payments with bank-level security, track payments with comprehensive reporting, and increase tenant retention by offering more payment options.
How Does It Work?
Each resident has their own RentMoola account, where they can login and manage their payments. The resident's property is added to their account, linking their payments to your bank account. Residents make one time or recurring payments through Credit Card, Credit Debit Card, or eCheque/ACH (directly from their chequing account), and the funds are deposited directly into your bank account. Use your manager account to generate reports, view resident information, manage resident payments, and more.
Sample Manager Account: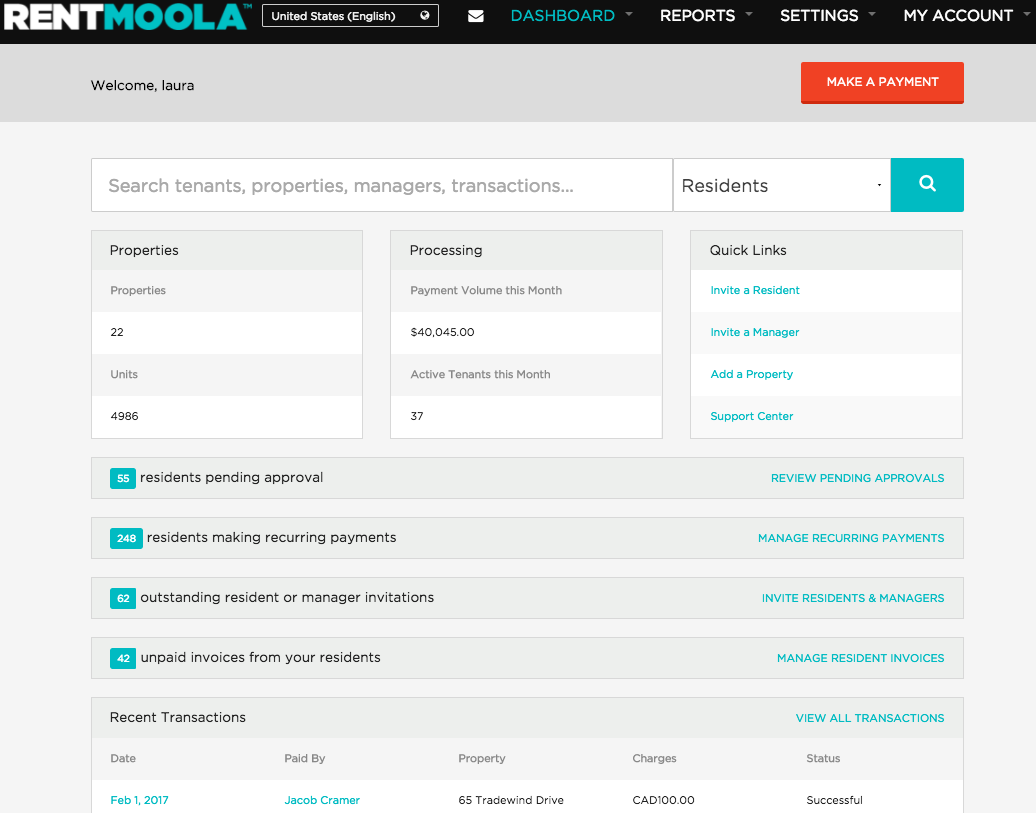 Getting Residents onto RentMoola 
Residents can join RentMoola through three options:
Resident Signs Up/Approve a Resident - The resident creates their own account in RentMoola, adds their property information by searching the postal code/zipcode, and enters their rent amount. Their account now becomes pending while you review and approve the information. Upon approval, their account is active and they can begin making payments.  
Invite - You start the sign-up process for the resident by entering their property information and rent amount for them. The resident is sent an email prompting them to finish the account set up by entering their payment details and creating a password. At this point, the account is active and they can begin making payments.
Create a user - You create the account on behalf of the resident. The resident will fill out a RentMoola Authorization form and return to you, which will provide you with all the information required to set up the account. The account becomes active immediately and does not require any action by the resident.
Resident Page & Making Payments
Resident Page
The resident page provides information about a resident, including their property, payment type, payment method, and transaction history. The resident page is accessed by clicking on a resident's name (from a report, or by searching the resident in the search bar).
Making Payments
Residents can make two types of payments: recurring payments (automatically charged to the resident on the same day each month) and one time payments (the resident logs in each month and manually makes a payment). Residents can make a one-time payment at any time, even if they're already set up on recurring payments. 
Residents can pay by credit card, debit card, or directly from their chequing account. Please note that service fees may be charged to the resident, depending on the payment method. A full pricing list can be found here. 
If you have their payment information, you can make a one-time payment on behalf of a resident through QuickPay.
Receiving Payments & Reporting
EFTs
As soon as a resident makes a payment, your (and their) RentMoola account will be updated in real time. Funds take between 1-3 business days to be deposited into your bank account (via EFT), depending on payment method.
At the end of each day, all payments are batched into two deposits (EFTs) for your account. All credit card and credit debit payments are batched into one EFT, and all eCheque (Direct Debit) payments are batched into another EFT. Payments made after the daily cutoff time will be batched with the following day's payments.
Reports
The following reports can be accessed at any time, and exported to excel/csv format:
Payments:  a real-time report of all payments made by residents.
EFT: a daily report of all EFTs deposited into your bank account. Provides a breakdown of the payments batched into each EFT.
Declines: a real-time report of all declined payments, and the reason for the decline.
Refunds: a real-time report of all refunded payments
User Sign Up: a real-time report of all users who have signed up to RentMoola. The report can be used to generate a list of all residents, however, it will also include residents who are no longer active.
Recurring Billing Date: a real-time report of all residents who are set up on recurring payments, and the date and amount of their payments.
Adding Properties

New properties can easily be added at any time by clicking on Dashboard > Properties or Add a property under your Quick Links. 
Optional Features
Your account may or may not be enabled for the following optional features:
RM Invoice: RM Invoice is an optional feature that allows you to invoice residents for one time charges such as variable utilities, damage fees, NSF charges, etc. Residents will receive an email notifying them that they have been sent an invoice to their property manager. They will be able to pay this invoice the next time they log into their account, or by clicking the link in the email they receive from RentMoola.
RM PAD: RM PAD is an optional feature which allows you to manage residents' recurring payments by changing the payment amount or date. With RM PAD, managers can:

apply rent increases or decreases;

change the day of the month on which the recurring payment goes out;

add new recurring charges (i.e. parking or storage fees).