Important - This guide provides a basic overview on how to set-up bank accounts to start collecting electronic or cash payments. Click the blue links for more information or instructions on any of the topics. This guide is only for you, if:
You are interested in using RentMoola and want to see what's involved in setting up your bank accounts.

You are now adding your buildings to RentMoola (i.e. property information and bank account information have been submitted).
Contents
Collecting Rent Payments

Payment Process

Electronic Fund Transfers

Processing Requirements

 Collecting Rent Payments
RentMoola works with two payment processors to provide electronic payments: Vantiv and PaySafe Group. When you are ready to set-up your buildings with RentMoola, we create accounts with our processors which includes merchant accounts. Each processor works with banks to set-up your merchant account where funds will be deposited before they are transferred to the Property Manager's bank account. RentMoola also works with PayNearMe in the USA to collect rent payments in cash at 7-Eleven and CVS locations. This is only available in certain markets in the USA for an additional fee per bank account. To pay in cash, residents must log in to RentMoola to download a barcode which is used at a 7-Eleven or CVS location to make the payment. For more information on how this works, view this video. To set up your buildings and bank account, there are several requirements including void checks, personal identifiable information for your signing authorities. For more information on this, please see below for the processing requirements section.
Credit Card Payments
When a credit card payment is made, RentMoola automatically verifies the resident has funds available before the payment is finalized. Credit card payments are guaranteed for this reason. It takes up to 3 business days for credit card payments to arrive in the property manager's bank account.
eCheck/eCheque Payments
Residents can set up this payment method by adding the account number and the routing number of a checking bank account. It takes 2 business days for eCheck funds to be deposited in the property manager's bank account.
RM eCheck payments take up to 5 business days to be withdrawn from the tenant's bank account. RentMoola remits funds to the property manager within 2 business days. If the tenant has insufficient funds in their bank account, RentMoola will automatically reverse the funds deposited into the property manager's account. The tenant will also automatically be charged a Non-Sufficient Funds (NSF) fee by their bank.
Refunds
Electronic transactions may be refunded up to 90 days after the payment is made. Our refund policy can be found here.
Payment Process
To process your rent payments, RentMoola works with various partners to debit funds from your resident's account and credit them to property manager's account. The process diagram below is quite standard in the payment industry but hopefully gives you some understanding of the payment lifecycle.
For electronic payments, residents must log in to RentMoola and select their payment method. Once they make a payment, this information is remitted to our processor to debit the funds from the credit card companies or the tenant's bank account. These funds are then deposited to a merchant account before being transferred to the property manager's bank account.
For cash payments, the resident makes a cash payment at participating 7-Eleven or CVS location which is then transferred to PayNearMe into an electronic payment. These funds are then deposited into the property manager's bank account.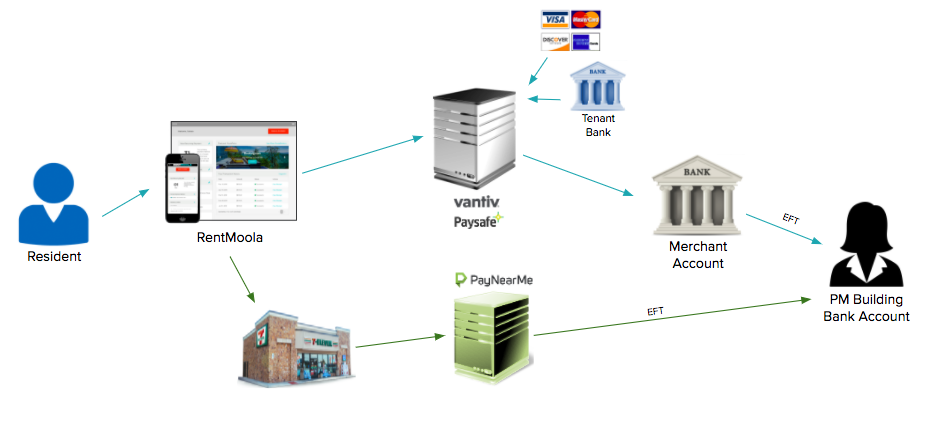 Electronic Funds Transfers
Once a resident makes a payment, you will receive the funds in your bank account. This processing time can vary depending on the payment method and the jurisdiction where the payment was made. It takes up to 3 business days for credit card payments and 2 business days for eChecks to be deposited into your bank account. Each day's payments are batched before being sent through the EFT process.
When you review your bank account, you will see deposits and withdrawals with the description of RentMoola, Paysafe Merchant Services Inc. and AMEX.
Canada Batch Cut-Off Times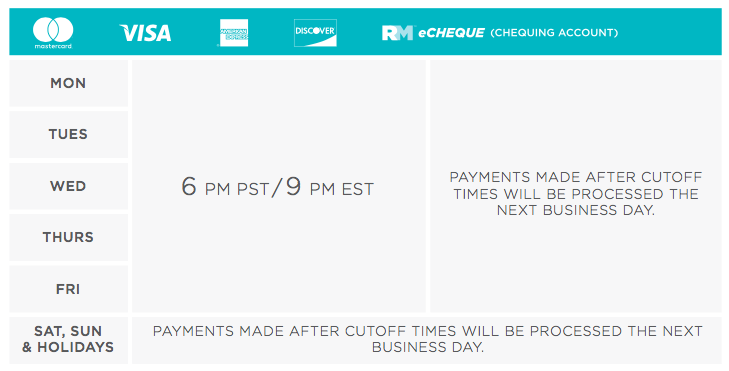 United States Batch Cut-Off Times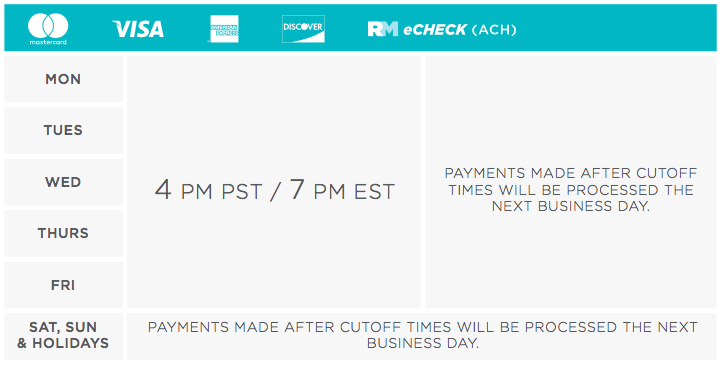 Processing Requirements
To set up payment processing for your building, RentMoola works with our processors to create new merchant accounts. All funds are remitted to these merchant accounts before they are transferred to your bank account.
Merchant Account
Setting up a merchant account is similar to setting up a regular bank account. These are done through the banks and require both information about your business and your signing officer. RentMoola collects all necessary business information in our application process including the following:
Company name

Address

Tax ID
For the signing officer, the banks typically require the following information:
Full name

Date of birth

Social security number or driver's license number

Passport number (if the signing officer is a foreigner)
These requirements are part of the standard bank procedures for opening a business account as per the US Financial Crimes Enforcement Network's (FinCEN) new customer due diligence rules.
Bank Account
Setting up the bank account, which the funds must finally be transferred to, requires at a minimum a void check to confirm the routing number (institution and transit numbers in Canada) and the bank account number. It also important that this account allows for both deposits and withdrawals as it will be used for remitting payments and processing refunds.
If the name of the account holder on the void check does not match the name of your company, you will be asked for additional information. There are typically two scenarios in this circumstance:
You own the bank account but the account is listed under a different business name. In this scenario, you will need to provide a letter from your bank stating you own the account in question. See below for more information on this requirement.

The bank account is owned by a different company that you manage. In this scenario, we will request all relevant information for this alternate company or will require a copy of your management agreement/contract stating that you are managing this property and bank account on their behalf. See below for more information on this requirement.
Bank Letter
Bank letters are required in the case the name on the void check is different than the legal entity name. A sample bank letter is attached below as a reference. Bank Letters must include the following:
Be typed on bank letterhead

Stamped or signed by a bank representative

Name of the PM company which should match the Entity Name in RentMoola

Name of the building or property owner on the void check

Bank account details (account name, routing #, and account #)
Management Agreements
Management agreements are required in the case that the Property Manager cannot provide a bank letter because they bank account is managed by the building owner.
This will only work if the name on the void check is the name of the Building Owner's company

Agreements must be made between the Property Manager and Building Owner

Agreements must be signed, dated and specify the duration of the agreement